Upgrade Guide for the 8100, step by step from A to Z
Download and
INSTALL
the latest 8100 OS, Application 4.5.0.182:
File name: 8100M_PBr4.5.0_rel306_PL2.7.0.106_A4.5.0.182_AT_am p_T.exe; BlackBerry Handheld Software v4.5.0.306 (Multilanguage)
If your using this guide to upgrade a different device, the latest OS will always be sticky'd to the top of that device's forum.

Download and install Desktop Manager 4.6 without Media Manager
4.5 will work fine
,
4.7 would require additional steps, and that version is unnecessary for a 4.5 OS. Stay completely away from 5.0, PLEASE!
You can download Media Manager, but most people don't use it. Once you've got your Mass Media Mode enabled, your SD card is just like an external drive. Anything you want to do, you can through My Computer.

Download and install CrackMem, you'll find the download file at the bottom of the first post
If your running Vista, be sure CrackMem has admin. rights, by right clicking on the install file and giving them to it.
For even further reduction in OS installation, use this:
http://www.bbhybrids.net/downloads.p...tionhash=guest
Work with caution though, it can remove an awful lot of stuff, and has MANY options. I strongly recommend leaving default themes and OTA Upgrade, along with anything else you're unsure of.
Check to be sure your downloaded themes/apps are compatible with OS 4.5. If not and you can upgrade them to 4.5, do so after the upgrade. For now bookmark the download sites, write down the install pins and delete.
Many third-party apps will also require you to reenter your user name and password, so you may want to make note of which apps require a login and make sure you've access to the necessary information, including registration numbers.
BBM contacts on rare occasion have been lost. Make sure all you don't want to loose are also in your address book.
Groups have become a real problem during an upgrade, so my recommendation is to ensure Remote Backup is enabled, and you have a BlackBerry address registered. Delete BBM from your application list, and then load it OTA afterward. This is the link
The orange sections are for 8100's only.
If your upgrading any device other than an 8100, disregard this ColorPearl section altogether.
Delete ColorPearl from your BB, it does not work on 4.5.
Download and install BlingBall to your PC from here:
Announcing BlingBall 0.9 beta 2 (8100 ONLY) - BlackBerryForums.com : Your Number One BlackBerry Community
Be sure to select it during the upgrade process. If it is not listed, browse to the folder you installed it to, and select the alx file.
Connect your BB to your PC and open Desktop Manager.
If it doesn't automatically ask you to back up, select back up and do same.
I'd also recommend you synchronize your address book and calendar with outlook if you have it. On Desktop Manager, select Synchronize and follow the prompts. I have mine synch everytime I connect to keep up with changes.

Back up your third party software, for safe keeping
Make a back up of your SD Media Card, create a folder and drag all of your contents into it.
Disconnect your BB, turn it off, and remove your SD Media Card.
Turn your BB back on and reconnect to your PC.
Make sure your pin is present on Desktop Manager, and close.
Open CrackMem.
Select the Operating System you wish to install.
Confirm your choice with the 'Confirm Operating System Selection' Button and the selected OS will be displayed in

blue

.
You can change your choice now if you wish.
In the MODULE REMOVAL section pick as many modules to remove as you wish. Make sure that you check the box for '

Remove Vendor.xml

'.
Personally, I check off every box, but you may wish to keep some modules.
Once you have finished selecting, click 'Execute Selection' and you will see an 'Action Completed' box appear. Click to dismiss it, then close CrackMem. Then you can place Shrink A OS in the current OS folder, open it, select the items you wish to remove, and and click the Shrink button.


Upgrading Process Start
Disable your internet connection, and open AppLoader found here:


For a more detailed look at the process, click here.
Press next, and your device pin should appear in the connection window. If not, disconnect and reconnect your device. Once it shows, move it to a place where you cannot touch it or the USB cord.
Press next again, and your application configuration and device configuration will be read.
If you are upgrading from an OS with a higher platform it will stop, and you will have to select downgrade like here:

| | |
| --- | --- |
| | This image has been resized. Click this bar to view the full image. The original image is sized 504x491. |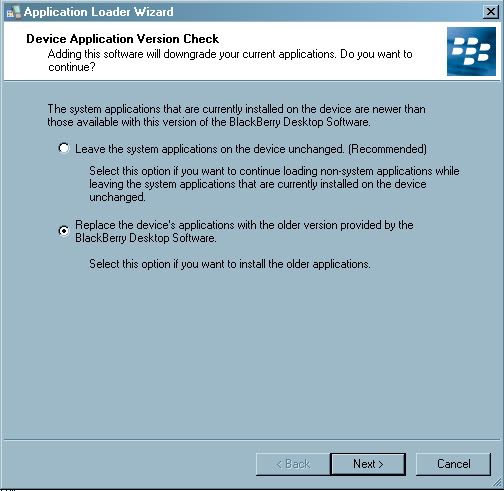 You will then see the selection window for the upgrade OS. Make sure "list additional applications..." is checked.
Carefully select the modules you wish to install.
Two key notes. If you're new OS isn't recognized, it's one of two things normally. There's a hidden vendor.xml file on your system. Run a search for it, and delete it even from your recycle bin. If it still doesn't load, you'll need to wipe the device at this point.
Make sure you select "Email Attachment Services" for HTML email and BlackBerry Messenger. Unless you will never get a data plan, you will use these. It's automatically installed on 5.0 OS though. These services are completely unnecessary, Supplemental SureType Wordlists (unless you use an additional language, or technical terms), BlackBerry Maps (there's no GPS, unless you get a BlueTooth dongle) I use GoogleMaps which works great, MDS Runtime, BlackBerry S/MIME and DOD Root Certificates.
Select Next at the bottom, and be sure the first box is checked to upgrade, and the box just below is checked.
Select Next, and step away from the PC for about an hour.

DO NOT

interupt it during the upgrade process.
You'll know your new OS is installed successfully when the AppLoader Complete screen appears.
You can now disconnect your BB from the PC and close AppLoader.
You will probably have to turn your wireless back on when it finishes it's final reboot.

Shortly after the process finishes up, you should receive a message in you inbox to let you know your device is registered with your carrier's network.
If not, go to options, advanced, host routing table, press the Menu key, select Register. Your service books will be sent from your carrier.
Official Release BBM5.0 Add In Instructions
Use this OTA link for all devices
There are many new features with this BBM.
There's a nice overview article here, though not of the official release. I will update the links, and guide for the new release as quickly as possible.
Let me cover some of the significant ones here. Let's get the Options set first:
| | |
| --- | --- |
| | Click this bar to view the full image. |

Also, if you select About from the menu while in Options, you can see your data use: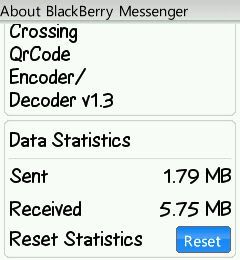 Finally, if you are using the guide to upgrade BBM only, once you complete the upgrade, register again through your Host Routing Table in advanced options, give it about 60 seconds after you receive the email, pull your battery, and your good to go.[/COLOR]
For T-Mobile customers who have undoubtedly lost their MyFaves. Log onto your T-Mo account, manage MyFaves, MyFaves are missing, and have them resent.

You will probably receive some icons you didn't have before. Just hide the ones you don't want, they don't take up much memory, and cannot be deleted anyway. These are links, not apps.
Turn off your BB, and reinstall your SD Media Card.
In options, make sure that Media Card Support is on, Mass Storage Mode Support is on, and Auto Enable Mass Storage Mode When Connected is YES.
Go to Media, press your Menu key, select options.
Set Device Memory Limit to it's maximum. You can try other settings, but I've found this to work best for most.
You may have noticed Explore in the menu, this is an easy way to access your SD files you've named without having to wait for thumbnails to load.
In Options, advanced, GPS, check to be sure Data Source is None, and Services is set to Location Off.
In Options you can now adjust your BlingBall to the color balance you want.
You can now install any apps/themes you deleted that have 4.5 versions available.
You will probably notice that your device is running a little slow at first. This is normal, and will pass in short order.
You'll get a confirmation email that your device has been registered. If not, go to options, advanced, host routing table, menu button, select register now, and wait 60 seconds after the confirmation email.
Do a final battery pull, wait 30 seconds and put it back in to help complete the process, and your ready to go. With some of the newer 5.0 OS, you'll find the browser cookies don't stick on a reboot. After about a half dozen pulls, this will pass.
Wipe Process
At this point if you've been having, and I can't stress this enough, ONLY IF YOU ARE HAVING MAJOR ISSUES, and have already tried upgrading without a wipe, and I suggest it or you are very experienced,
you may want to wipe your device. I recommend you use CrackUtil to do it, it will clean everything out of your memory.

Use the link above to download it onto your PC, and install it. Follow the wipe instructions found on the post.
Try opening up loader.exe shown below, and if your device is recognized, you can proceed with the upgrade. Otherwise go into your Control Panel, select System, Hardware, Device Manager, USB Controllers, right click each Root Hub, select Properties, select Power Management and clear the checkbox like this:

| | |
| --- | --- |
| | This image has been resized. Click this bar to view the full image. The original image is sized 799x444. |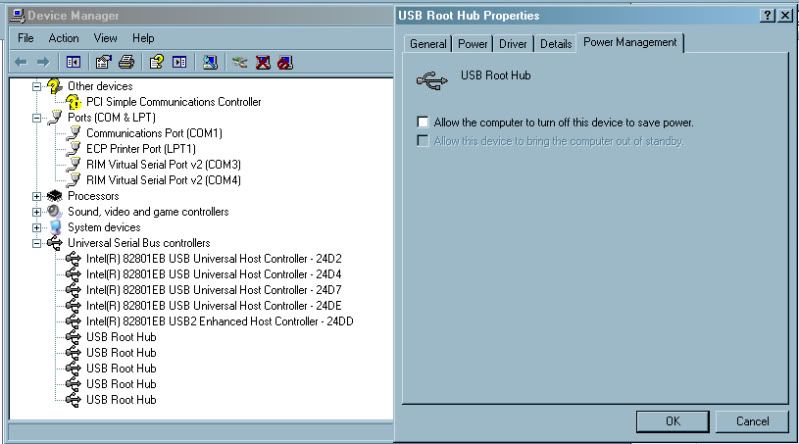 Now when you move on to the next step you will have to disconnect the device from your PC. Go to this folder here:



Click on Loader, select next, and be prepared to select next again (yes, it will become clickable).


Pull the battery out, then put it back in, and plug in the USB, then AppLoader should see a device has been connected. Select Next as soon as this happens. There's only a small window of opportunity, so you may have to try a few times to accomplish it. You should now see the upgrading process begin. Alternatively, try having the device plugged in, with the battery out and apploader at the ready. Pop in the battery, and hit next.
Thank you to everyone who's information I've used/pasted in the making of this guide! Especially MJNeid, Pete6, and Crucial Xtreme.
---
Last edited by BigBadWulf; 07-05-2010 at

08:57 PM